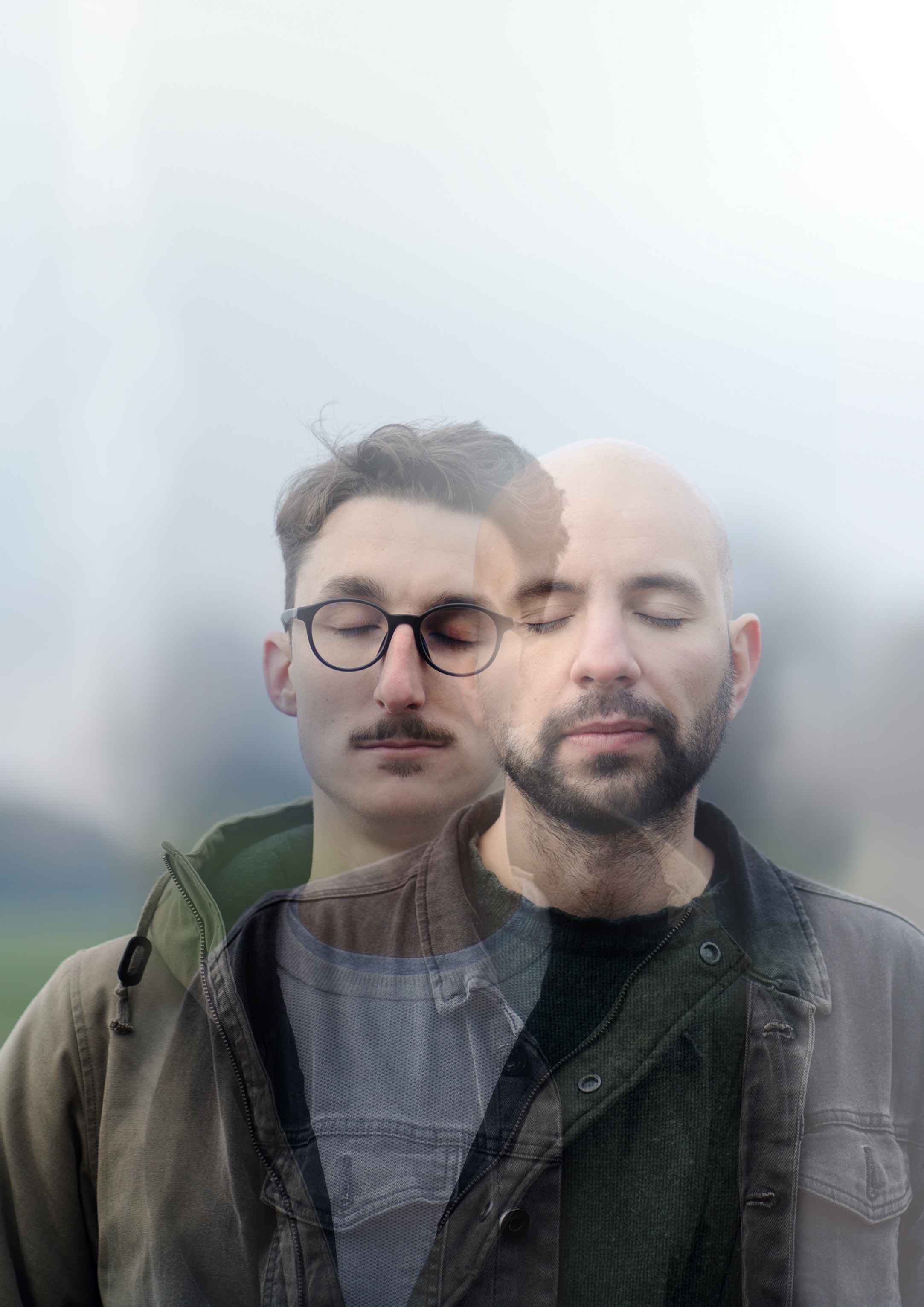 Orange and Mountains is a musical conversation between two musicians, sound designers, producers, and friends: Edoardo De Din and Lorenzo Pesci. Their collaborative partnership was born out of the intermingling of their individual musical visions and, interestingly, their scientific and technical backgrounds in natural sciences and engineering. The result of this unique combination is an enthralling body of work that is inspired by various genres, artwork, and ideas, their personalities ultimately becoming the filter between their stimuli and the resulting music. 2021 marks the release of their debut full-length Drawers, a conceptual project that centers around a fascinating theme: the visual and emotional content of dreams during and after sleep. The LP features five tracks representing the nighttime dreams, with five counterparts —"diurnal" reworks—representing the awake phrase of recollection. Drawers comes after several successful projects: LE:compounds, the first project to fuse their personal paths into a cohesive sonic palette, Frame IV – Rework, a spin on the original by modern-classical artist Ed Carlsen which garnered the attention of Spotify and was added to their "Afterhours" and "Kopfkino" editorial playlists, and single Far-Out Robots Walk the Earth, Peacefully.

Simeon Walker, Jameson Nathan Jones and BPMoore re-interpreted the singles of our album "Drawers", giving their personal touch. Simeon Walker signature delicate and deep sound induces a sort of hanging peacefulness and melancholic beauty, which are quite in contrast with the original version of "Rivali". Jameson Nathan Jones gave to "Gloomy Lights" a mixture of haunting beautiful soundscapes and melodies, with something that is rather dark and mysterious. BPMoore interpreted "Absorbed in a Point" giving it a very special energy and a beautiful turn. His signature drum patterns and strings harmonies added a different and interesting grit and charm to it.


"Far-Out Robots Walk the Earth, Peacefully" was inspired by the German expressionist sci-fi drama film "Metropolis" describing the confict between the beauty of technologically advanced machines and their often controversial role in Nature. This resulted in a cinematic and energetic though melancholic (and danceble) song.
Getting to know Ed Carlsen (@edcarlsen) has been an important part of our growing process. In his very passionate and technical approach to music we have found much inspiration and our friendship has lead to important and always interesting exchange of ideas. In November 2019 we released a rework of Frame IV from Ed Carlsen's album Elusive Frames.
The diverse interests for music and arts that Orange and Mountains have been constantly sharing merged into the production of "LE:compounds",  a channel to compound their personal and different paths into a cohesive, colorful world.
Particularly, reading "Los Detectives Salvajes" by Roberto Bolano has pushed Orange and Mountains' attention on how each form of art can still have new forms of expression yet to discover, like these lakes that "no one sees".
This encourages Orange and Mountains to search for different musical solutions to work with and to draft their vision.
What we are listening to
Creativity takes courage